Frugal Gift Ideas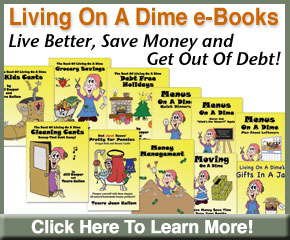 Not sure about you, but we at the Logan house are doing some serious talking about frugal gift ideas for Christmas shopping, started by my wife actually.
Just like everybody else who reads the paper and struggles to comprehend how the bailout and the problems with the automakers and insurance giants will impact us here in the outskirts of Rockford, Illinois, we are worried and looking for ways to cut back and put away.
In my mind, that is a very good thing. I am 60 and my parents survived the depression, and some of their resilience rubbed off on me I guess, and I am rather mystified when I watch my wife and especially my children not know what to do if entertainment or goods are not brought to them.
Not a lot of initiative or ability to make do.
So this particular time in our country's history could be a incredible opportunity for us to get past some of the "to-be-happy-I-must-consume-mentality, and back to a more self-reliant model.
But maybe you are in need of a jump start in your quest for information?
Well, check out
Living on a Dime e-books to get a river of ideas from the Kansas heartland. Doesn't hurt in my mind that I was born in Kansas City, Missouri and lived a lot in Kansas, I like Kansas ideas.
Over the years, I have gotten used to giving small treats and rewards to myself for my successes. Thirty years ago or so, I remember how nice it was to have a treat of french vanilla instant coffee at the end of a hard day, or how nice Sunday mornings were with two donuts and coffee and the Sunday paper.
I felt great as I did those small rituals, and maybe that is the key. To make small rewards rituals and build them into your schedule.
I remember how good it felt to finish my last final in graduate school, and since the professor graded it there, I knew that I was a graduate.
When weary, or disappointed, I recall that moment, which represents the first graduate degree for any member of the Logan family, ever, and I feel proud again, and I think that if I could do that, which took several years of self-discipline, I can certainly make it through this particular moment, and that is a self-reward.
(Counselor uses his own tool; change the thought to change the feeling).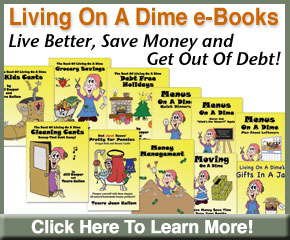 Frugal Gift Ideas with Google-Use Google Alerts
I just lifted this idea from the Living on a Dime site. I am whacking myself on the head because I use Google Alerts to find counseling information, but it never occurred to me use it for sales.
The cool thing about this tip for me is I can set up alerts for stores close by, Walgreens, Wal-Mart, Highlanders, ect. and save time by knowing what is on sale when. (I do guy shopping, go in and get only what I want and leave, after I pay of course). This tip saves time.
"Use Google Alerts to Save Money
Google has a neat little tool that sends you alerts whenever a search term you specify appears in a new web page, blog post, or news article. You can choose how often you want to receive alerts by setting it to once a day, once a week, or as it happens. Google will send you a digest of items containing your search term right to your inbox. You can setup multiple alerts and delete them at any time. I've been using Google Alerts to save money in a variety of ways:
Coupons & Codes: There are several brands, products and stores I buy from on a frequent basis. I have set-up several alerts with store, product, and brand name and the terms "coupon" and "code"
Sales & Deals: If I know I will be making an upcoming purchase for some product I will setup a google alert for that product's name and the terms "deal" and "sale".
Product Reviews: For products I am looking into purchasing I will setup a google alert for the products name and the term "review"
Money Saving Tips: I'm always interested in learning new money saving tips. I have several general money saving alerts set up including: "money saving tips", "frugal living", "ways to save money", "gardening tips". This alerts me anytime there is fresh new content on the web or in blogs that can show me how to save money.
Want all of the wisdom Tawra of Living on a Dime e-books has accumulated? Click on a link. This tip alone could save me hours of time
Use these e-books to save during your holiday shopping. Read through Tawra's experience and wisdom and use it. See how she paid off a mortgage with very low income. If she can do it, so can I.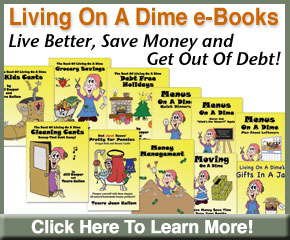 Frugal Gifts Bought Online

Frugal Living Tips

Frugal Christmas Gift Ideas

Inexpensive Christmas Gift Ideas

Another affiliate program which promotes a green and frugal lifestyle while helping your income situation. Gotta love it.
Real Goods Outlet Sale. Save up to 75% off instantly.
Would You Share Something That You Are Grateful For?
When I was beginning my personal growth journey, a wise person told me that when I was feeling resentful or afraid or sad, that I should remember the phrase "gratitude is the attitude" when I was ready to feel better. That phrase has helped me feel better tens of thousands of times.

Would you share what you are most grateful for? Your story could be just what another person is searching for to renew themselves? Thanks.



What Other Visitors Have Said
Click below to see contributions from other visitors to this page...

IN NEED! Not rated yet
I live in Illinois I have suffered all my life from depression/anxiety. Very frustrated with the help (if you can call it that) I've received over the …